Last Updated on December 5, 2022 by Cristina
Today, we're going to be taking a look at the best authentic Oaxacan mole recipe. Mole is one of the most traditional sauces when it comes to Mexican cuisine, and we're going to show you how to recreate an authentic mole. There are 7 different types of mole, with the majority of people most familiar with the flavors of chili and chocolate – but Oaxacan mole can be so much more than that! Let's take a closer look.
What Is Oaxacan Mole?
Mole, simply translates to "sauce". It's a traditional sauce in Mexican cooking, and is typically used a sauce or a marinade in many Mexican dishes. There are 7 different moles of Oaxaca, and we'll be looking at them in more detail later in this post. The 7 moles are mole poblano, mole Verde, mole negro, mole chichilo, mole Amarillo, mole coloradito and mole manchamantel.
What Is Oaxacan Mole Made Of?
As there's several different varieties of mole, the ingredients will always vary. However, typically, they follow the same basic recipe of: toasted chiles, roasted vegetables, nuts, seeds, chocolate, dried fruit and bread/masa. It's then made into a sauce and served with protein, such as chicken or turkey. It usually tastes, spicy, smoky and slightly sweet.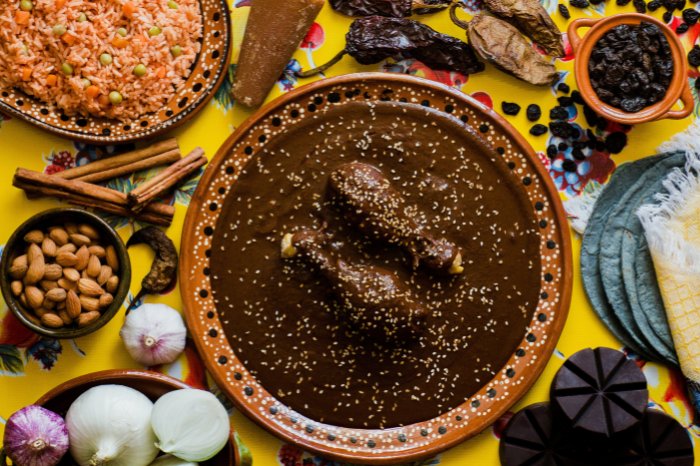 Nutritional Information Of Oaxacan Mole
You may be curious as to the nutritional value of Oaxacan mole. The recipe we're looking at contains the following per serving:
Calories: 507
Fat: 23g
Saturated Fat: 9g
Cholesterol: 7mg
Sodium: 1375mg
Carbohydrates: 75g
Fiber: 11g
Protein: 11g
Sugar: 43g
What Are The 7 Moles Of Oaxaca?
Mole Poblano (Red Mole). One of the most popular moles. Ingredients in this sauce usually include chiles such as ancho and mulato. Nuts such as almonds or peanuts are also typically used.
Mole Verde. Lots of fresh herbs are used in this sauce. Jalapenos, tomatillos and cilantro are typical ingredients used, from which it gets its green coloring.
Mole Negro. Sweet and spicy. Ingredients such as heavy spices like cumin and cinnamon, paired with chocolate. Hoja Santa is also a main ingredient of this dish.
Mole Chichilo. Typically, beef stock is the main ingredient in this sauce, alongside chilies, such as ancho and arbol.
Mole Amarillo. Spicy sauce which uses cornflour. Paired perfectly with shredded chicken.
Mole Coloradito. Sweet plantains is the key ingredient in this sauce, alongside chocolate, chili and dried fruit and nuts.
Mole Manchamantel. A fruity sauce, which typically includes chorizo, tomatoes and pineapple.
What Is The Special Aztec Ingredient In Mole?
Over the years, the recipe has changed slightly and enhanced the flavor of the dish. One of the most favored ingredients in mole is xocoatl. This is actually the Aztec word for chocolate!
What Is Oaxaca-Style Mole?
This simply means that it may not be authentic, and is simply in the style of an Oaxacan mole. Many people have made their own take on this infamous sauce/marinade and they do like to veer off from the traditional recipe to acquire the sauce to their own taste.
Yerbero – Authentic Artisan Mole Negro Oaxaqueño 1.1 Lb (455gr) | Artesanal Oaxacan Black Mole Paste
Authentic Oaxacan Mole Recipe
This authentic recipe is inspired by one from All Recipes. It makes 4 servings. For full nutritional information, check above. Let's take a closer look.
Ingredients
stemmed and seeded chiles (3 chipotle chiles, 2 ancho chiles, 2 guajillo chiles)
2 cup of chicken broth
1 torn dinner roll
2 corn tortillas (cut into strips)
2 tomatoes, halved
5 tomatillos, halved
1 onion, halved and sliced
1/2 head of garlic
1/3 cup of peanuts, chopped
1/4 cup of raisins
1 tbsp of lard
5 cloves
3 cinnamon sticks
3 tbsp of white sugar
1 tsp of salt
1 tbsp thyme
2 tbsp cumin seeds
5oz of chopped dark chocolate
1 cup of chicken broth
6 allspice berries
You Might Want to Read these Related Articles:
Recipe – Authentic Oaxacan Mole Recipe
Step 1: Toast The Chiles
Heat a pan to a medium heat. Add the ancho, chipotle and guajillo chiles to a dry pan and cook for around 3 minutes. Once toasted, remove from heat and add to a blender.
Step 2: Heat The Broth
Add 2 cups of broth to a pan and leave to simmer for around 5 minutes. Once warm, remove from heat and add to the blender.
Step 3: Toast Bread
Add the strips of tortilla and torn dinner roll to a dry pan. Be sure to stir often. Heat for around 3 minutes and add to the blender.
Take Out Time to Also Read:
Step 4: Soften The Bread – Authentic Oaxacan Mole Recipe
Leave the tortillas and bread to soak in the broth in the blender. You want the bread to be soft, and this should take around ten minutes. Once softened, you can now blend the mixture of chiles, broth, bread and tortillas.
Step 5: Cook Tomatoes
Add the tomatoes and tomatillos to a pan and cook until soft. This should take around 4 minutes each side. Add to the blender.
Step 6: Toast The Nuts And Fruits
Add the lard to a pan and cook on a medium heat. Now add the raisins, peanuts, berries, cinnamon, cloves, garlic, onion, cumin and thyme. Cook for around 6-8 minutes. Now remove the whole spices and cinnamon, and add the rest of the mixture to the blender, and blend until smooth.
Step 7: Thicken The Sauce
Add the blended puree to a pan over a medium heat. Add the extra cup of chicken broth, along with the sugar, salt – and most importantly, the chocolate! Keep stirring until the sauce has melted and the sauce begins to thicken. Leave to simmer for around 10-15 minutes until it reaches the consistency you require. Your mole is now ready to serve!
Conclusion – Authentic Oaxacan Mole Recipe
I hope this post has helped you to become more familiar with an authentic Oaxacan mole recipe. While this recipe does contain a plethora of ingredients, it's certainly worth the effort and it's paired perfectly with protein or vegetables. It's full of flavor and perfect for any occassion.
Do you have any tips or tricks when it comes to making an authentic Oaxacan mole? If so, please feel free to let me know in the comments below. Sharing is caring!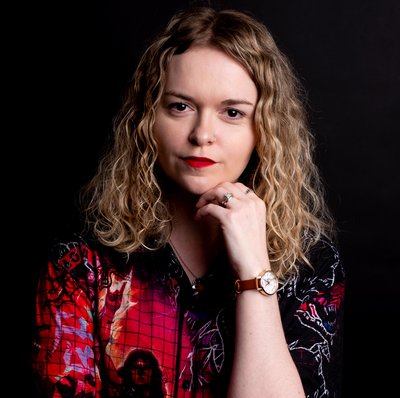 Hi, my name's Zoë. I'm 28 years old and live in London, UK. I work full time as a freelance writer and critic for West End theatre. Writing has been a passion of mine for as long as I can remember. I spend most of my free time at the theatre, or at conventions. I'm married to the love of my life, and live in a small apartment with my fur baby, Lillie. I run two of my own blogs: No Safer Place and Stage to Page: both of which have won awards. I also have a YouTube channel where I talk about all things stagey.