Last Updated on January 8, 2023 by Cristina
Are you looking for a top-notch Mexican meal for your next family and friends gathering? Fortunately, you have come to the right place!
First, we have a question for you, how much of a stuffed pepper fan are you from 1 to FAVORITE MEAL EVER? This article is intended for all stuffed pepper fanatics, and those of you who haven't been, we believe you will join us after the first bite.
This time we have prepared for you the perfect Baked Poblano Chile Relleno recipe, which in our (humble) opinion is the original and by all standards, the most iconic stuffed pepper recipe of all. Are you ready for another culinary adventure? We are glad to hear that, let's get into the details.
What Is Poblano Peppers Chili Relleno?
Chile Rellenos, or as they say in English-speaking countries, stuffed peppers, is an authentic and traditional Mexican dish. It is made from roasted poblano peppers that are stuffed with cheese and/or meat, then coated in a fluffy egg batter, and finally baked or fried in oil until they get a nice golden brown color.
It doesn't require much preparation and results in an explosion of rich and bold flavors and textures, and it's really worth the effort.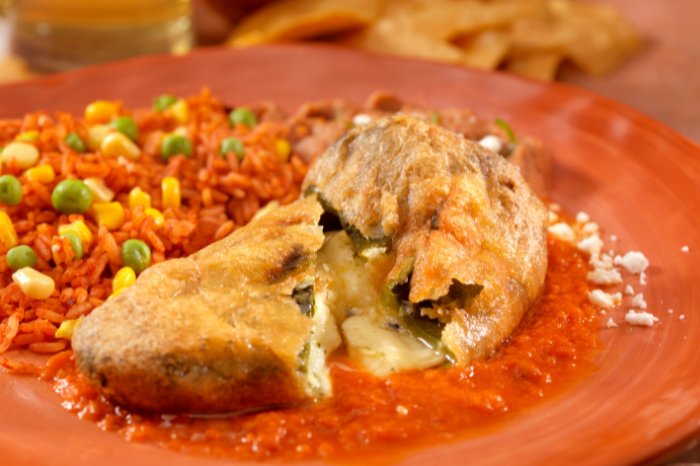 Baked Poblano Chile Relleno Recipe
Ingredients
Poblano peppers (3-4 larger ones or 5-6 smaller ones)
3 cups of cheese (shredded)
1 14.5-ounce can of tomatoes (it doesn't matter if you use crushed or diced, depending on what's available at the grocery store)
½ onion
1 4-ounce can of green chilies (preferably diced ones)
¼ cup of broth (you can use both, vegetable or chicken)
2 cloves of garlic
3-4 sprigs of green onions
avocado
sour cream
How To Make Baked Poblano Chile Relleno Recipe
#1: Choose The Right Poblano Peppers
Whether you pick them in your own garden or get them from your favorite fresh fruit and vegetable store, they are best for cooking when they are 14 to 18 inches long and glossy, dark green in color. Avoid using yellow or orange ones as they are still unripe and the dish won't turn out properly.
#2: Roast The Peppers
This step is pretty straightforward. All you have to do is line a baking sheet with aluminum foil or baking paper, place the peppers on it and bake. The process should take about 15 to 20 minutes, depending on the power of your oven. Don't forget that the peppers need to be flipped every 5 minutes so that they are nicely browned on all sides.
Once done, remove them from the oven and immediately place them in a sealable plastic bag to steam for 10 minutes. This is very important and we wouldn't recommend skipping it. P.S. watch your fingers, they are hot as hell!
#3: Make Homemade Salsa Or Tomato Sauce
The secret to the best Chile Poblano Relleno recipe is the homemade salsa or sauce. But, do you know what actually the best is? This veggie sauce of ours is super easy to make.
Put all the ingredients (can tomatoes, onion, green chilies, garlic, broth) into a saucepan on the stove over med-high heat, and bring to a boil. As soon as it boils, feel free to turn off the heat, it isn't necessary to cook the sauce to the end as it goes in the oven later.
Ol' Gringo Chile Company Red Chile Sauce, Medium Heat (2 Pack)
Once done, add the mixture to a food processor or blender and pulse a few times to smooth it out. Depending on your preferences, you can blend the mixture until all the veggie pieces are gone or leave some if you want, it's completely optional.
#4: Choose The Best Cheese For Chile Rellenos
You don't want to make the wrong choice here because then all your efforts can go to waste. It is crucial to choose one cheese or more cheeses that melt more than just nice. We most often use a combination of queso fresco, sharp cheddar, and mozzarella, however, don't let our advice stop you, you can use whatever cheese you like or have on hand.
#5: Remove The Skin From The Peppers
The time has come to finish the remaining little things related to the preparation of peppers for baking. Take them out of the bag, cut a slit in the side, and remove the seeds and top stem, and peel them as much as possible. Don't worry if you have a few pieces of skin left, this Baked Poblano Chile Relleno recipe is so perfect that you probably won't even notice it.
#6: Fill Them Up – Baked Poblano Chile Relleno Recipe
Flip the pepper back over and fill it with selected types of cheese. This is the moment when you don't want to be stingy, on the contrary, the more generous you are, the tastier it will be.
After that, carefully roll up the sides of the pepper and place it open-side down in the pan into which you previously poured half of the sauce/salsa. Finally, cover the stuffed peppers with the other half of the sauce/salsa and the remaining cheese.
#7: It's Time To Bake
Place in a preheated oven at 375°F for 25 minutes, note that you may need to increase or decrease the temperature depending on the power of your oven. Once done, sprinkle generously with chopped green onion, avocado, and sour cream. Don't forget to enjoy!
Have you ever tasted Chile Relleno Casserole with fresh Poblanos? This is also one of our favorite dishes, if you are in favor of it, we will soon bring you a recipe for this delicacy as well.
Wrapping Up – Baked Poblano Chile Relleno Recipe
Mexican cuisine is one of the most popular cuisines in the world, and we don't want to lie to you, in our opinion it is also the tastiest in the world. What do you think about this Baked Poblano Chile Relleno recipe, and will you give it a try? Let us know in the comments.
Recommended: Cómo Marinar Carne Para Asar Al Estilo Mexicano En 5 Pasos