Last Updated on January 9, 2022 by Guillermina
These holidays are a great time to make Tamales to share with the family, but what sauce goes with Tamales? Tamales are delicious corn flour pastries that take time to prepare and enjoy. Although you can eat them without any additional toppings, who doesn't love a good sauce?
In this recipe, there are step-by-step instructions that go into detail and are easy to understand. The recipe is great for beginners that want to learn how to make a sauce that perfectly accompanies tamales.
The Brief History Of Tamales
A lot of authentic Mexican food has a rich history, and tamales are no different! Corn grows in an abundance in Mexico and North America. The indigenous people of this land would use the corn kernels and husks to prepare a corn masa to use for tamales. Inside the tamales were meat, beans, cheese, and other vegetables native to the area.
Interestingly, tamales were a part of everyday life. They have been around for thousands of years and have not changed much. The modern-day Tamales we see now are only slightly different. Instead of using vegetables and meat native to the land like ox, Mexicans and Americans use commercial meats like chicken and pork.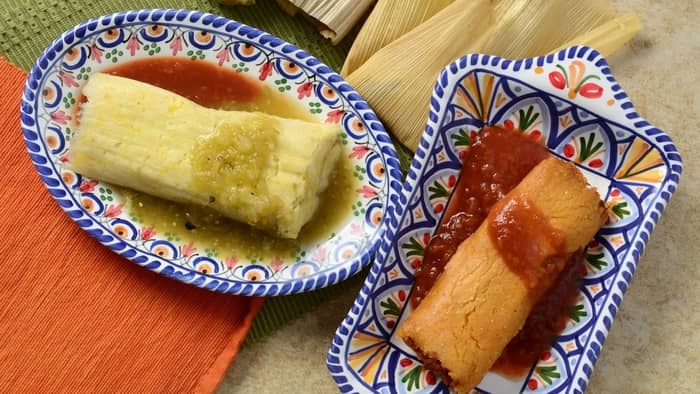 What Is Red Chili Sauce?
While you do not need anything to accompany Tamales, red chili sauce is a delicious and savory topping! You can pour this sauce on top of your tamales or simply dip your tamale into the sauce. Red chili sauce is vibrant and comes with a kick!
This sauce is simple and only uses a few ingredients. One of the main ingredients is fresh or dry red chili peppers. The sweet and spicy taste makes a great sauce and adds a punch of flavor to the tamales. This sauce also has a rich history! Around the same time that the indigenous people of Mexico were making Tamales, they were also preparing sauces rich with peppers like red chilis.
What You Will Need To Make Red Chili Sauce
Ingredients
20 Large Dried/Dehydrated Chilis- If you prefer, you can use fresh red chili peppers, however, you do need to be warned that the flavor is not as strong and that the peppers are not easy to find raw.
5 Garlic Cloves Blended
2 tbsp. of Olive Oil
1 tbsp. of White Flour- To give an extra gritty texture, you can also substitute for corn flour. However, the color will change drastically since yellow and red are not as complimentary as red and white.
1 tsp. of Cumin
2 tsp. of Salt
5 Cups of Water
Ice
Equipment
Baking Sheet
2 Bowls
Cutting Board
Knife
Large Sauce Pan
Pot to Boil Water
Blender
Step By Step Instructions On What Sauce Goes With Tamales
Step 1: Prepare the Chili Peppers and Boil them
During this first step, you need to prepare the chili peppers to use in your sauce. Since there are many, this is the step that takes the longest, however, it is easy and repetitive. You will need to put the peppers and place them in a pot of water. Don't start boiling the water unless the peppers are all inside and accounted for.
You should place a cover on your boiling pot and let it boil for approximately 5 minutes. After you start smelling the intense flavors of the peppers, turn the heat off and immediately place the peppers in ice-cold water. This rehydrates them and ensures they don't shrivel up again when off the heat.
Step 2: Blend Ingredients Together
In the second step, you need to place all the peppers in a blender. Only do this when the peppers are completely cool to eliminate the possibility that the chili peppers will heat or warm the rest of the ingredients. Add all the ingredients except the flour. You should blend until the mixture is smooth and free from solid pieces.
Step 3: Simmer Flour and Blended Mixture
The third step is the last and final step where you will take water and the measured out flour and simmer it on the stovetop. Little by little, pour the blended mixture and stir. The color of the sauce should be a deep red or brown. Make sure not to burn it. If you notice that the sauce is thick, you can continue adding more water to dilute it.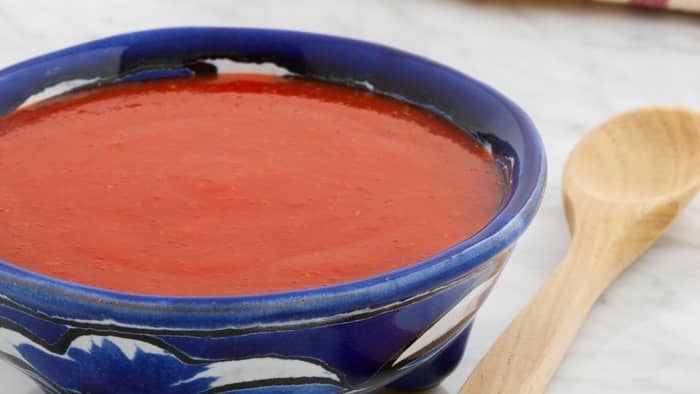 Tips and Tricks on Making Tamale Sauce
There are a few tips and tricks you can use to make tamale sauce. First, you don't have to buy fresh chili peppers. Although the fresher the peppers are, the better, you can use the canned version in your recipe if you do not have the time to cut and pit the peppers.
Another trick I have for you is to use the water you boiled your peppers in! This water is sterile and also full of flavor! Although it is not a requirement, the water can elevate the flavor of your new sauce. Have you ever wondered to yourself; can you use enchilada sauce for tamales? The answer is yes! The same sauce in this recipe can be used on top of enchiladas.
To store this red chili sauce for the long term, there are a few methods you can use. If you have access to a fridge, the sauce should store for up to two weeks if it is sealed tightly. However, if you want to make the sauces in bulk, you can freeze them after cooking. To defrost them, use a pot and the stovetop to warm the frozen red chili sauce.
Servings and preparation time
| | | |
| --- | --- | --- |
| Cook Time | Preparation Time | Serving Size |
| 10 Minutes | 10 Minutes | 15 |
All in all, tamales are delicious, but sometimes they need an extra kick. For spice and heat lovers, this red chili sauce is a great addition and side dish during the Holidays. It only takes about 20 minutes to prepare and serves a lot of people! One spoon full of the sauce goes a long way.
What do you think of this recipe? If you have learned something new about What Sauce Goes with Tamales feel free to leave a comment down below and share with friends.
Nixza is a passionate chef who loves to cook Mexican food. She has been cooking since a young age and has developed a deep understanding of the flavors and techniques of Mexican cuisine. She strives to bring the flavors of Mexico to life in every dish she creates. Nixza loves to experiment in the kitchen and is always looking for new recipes to add to her repertoire. Whether it's a traditional dish or something more modern and inventive, Nixza loves to share her passion for Mexican cuisine with friends and family. Her delicious creations have earned her a loyal following of admirers, who enjoy her unique and flavorful dishes. Nixza is passionate about making sure her food is both delicious and healthy, and she takes great pride in the quality of her recipes.