Last Updated on December 5, 2022 by Cristina
Today, we're going to be looking at the best authentic chili con queso recipe. When it comes to the perfect cheesy side dish, you absolutely can not go wrong with chili con queso. It's creamy, velvety and is paired perfectly with a range of dishes, but most commonly, tortilla dips.
If you're looking for the perfect celebration appetizer, or a way to liven up your midweek meals – then look no further. But how do you go about making an authentic chili con queso recipe? Let's take a closer look.
What Is A Chili Con Queso?
You'll likely already be familiar with chili queso, and if you're not – you're missing out! Chili con queso, simply translates to chili with cheese. You may know it better as simply "queso". It can be served as a side dish, appetizer, or even as a simple dip. It mainly consists of chili peppers and melted cheese, and makes the perfect dip for tortilla chips. It's creamy, rich, with subtle notes of heat. You'll likely find chili con queso served in Tex-Mex restaurants in the southern US.
Mexican Chili Con Queso Ingredients
Depending on which recipe you're following, the ingredients can vary massively. The most common ingredients are simply cheese and chili peppers. However, our recipe contains the following:
butter
onion
jalapeno pepper
garlic
all purpose flour
half and half
cheddar cheese
pepper Jack cheese
cumin
salt
diced tomatoes
red pepper flakes
cilantro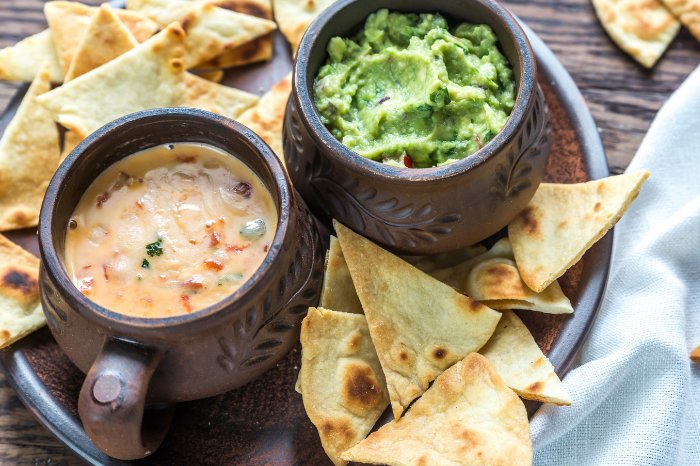 Click Here to Get Info About:
Mexican Chili Con Queso Nutritional Information
You may be curious as to the nutritional value of Mexican chili con queso. Each 1/4 cup serving provides the following:
Calories: 253
Fat: 21g
Saturated Fat: 13g
Carbohydrates: 8g
Sugar: 1g
Fiber: 1g
Protein: 10g
Sodium: 275mg
Cholesterol: 64mg
How To Make Authentic Chili Con Queso Recipe
Let's get down to the reason you're here – how to make chili con queso! This recipe is inspired by one from Once Upon a Chef. Let's take a closer look at how to make this Mexican favorite.
Ingredients
3 tbsp of butter (unsalted)
1 diced yellow onion
1 diced large jalapeno pepper
4 minced garlic cloves
2 cups of milk (half and half)
3 tbsp of all purpose flour
1 cup of sharp cheddar cheese
1 cup of pepper Jack cheese
1/2 tsp of salt
1/4 tsp of cumin
1/4 tsp of red pepper flakes
2 tbsp of the flesh of tomatoes
sprinkle of chopped cilantro
Recipe
Step 1: Cook The Veggies
Heat a pan over a medium heat. Melt the butter. Once melted, add the jalapenos and onions. Stir often and cook until the veggies are soft. This should take around five minutes. Now throw in the garlic and cook for a further 30 seconds. Next, sprinkle in the flour and stir for around a minute.
Step 2: Simmer The Mixture – Authentic Chili Con Queso Recipe
Gradually add the half and half, mixing continuously as you go. Once the flour has completely dissolved, bring the mixture to a simmer and leave to thicken for several minutes. Once thickened, reduce to heat and slowly add the cheese. Be sure to add gradually and only add the next batch until the previous batch has completely melted. Once all cheese has been added, add the salt, cumin and tomatoes.
Cast Iron Skillet Set – 3-Piece: 6″ + 8″ + 10″-Inch Chef Frying Pans
Step 3: Season And Serve
Add the red pepper flakes, and adjust any seasonings (e.g. more salt/pepper etc.) to your taste. Add more milk if the mixture seems to thick, or add more flour if the mixture seems to thin. Serve in a bowl, and ensure it's hot for best results. Reheat in the microwave if the mixture has cooled too much.
Best Chili Con Queso Recipe
This authentic chili con queso recipe is by far my favorite. It's full of flavor and once you start eating this tasty dish, you definitely won't be able to stop! Let's take a closer look at how to make this popular appetizer.
Ingredients
1/2 cup of milk
1/2 cup of water
1/2 cup of heavy cream
2 tablespoons of corn starch
2 teaspoons of vegetable oil
1 diced medium onion
1 diced red bell pepper
15oz diced tomato
8oz diced green chiles
handful of sliced scallion
16oz of American cheese
1lb of ground beef
3 tablespoons of chili powder
1 teaspoon of salt
1 bag of chips (to serve)
Recipe
Step 1: Cook The Meat And Veggies
Grab a large skillet and pour in the vegetable oil. Heat over a medium heat. Add the bell pepper and yellow onion and leave to cook for around two minutes; at this point, the veggies should have began to soften. Now add the chili seasoning, along with the ground beef. Leave to cook until the beef is completely cooked through. This should take around 5 minutes. Once cooked, remove the pan from heat.
Step 2: Thicken The Queso – Authentic Chili Con Queso Recipe
Using a small pan, add the heavy cream and milk. Use a whisk to whisk well until the mixture comes to a boil. Once boiling, remove from heat. In a separate bowl, add the corn starch and water and mix well to make a slurry. Gradually add the slurry to the milk mixture and mix well. Once mixed, bring to a simmer on a medium heat.
Step 3: Season And Serve
Season with salt and gradually add the cheese. Only add the next batch of cheese once the batch before is completely melted. Once all the cheese has melted, add the chiles and tomatoes. Mix well. Serve queso and sprinkle scallions over the top for garnish. Serve and enjoy!
Take Out Time to Also Read:
Conclusion – Authentic Chili Con Queso Recipe
I hope this post has given you the best authentic chili con queso recipe. Chili con queso is super easy to make and it's one of the best appetizers for all of the family!
Do you have any tips or tricks when it comes to making chili con queso? If so, please feel free to let me know in the comments below. Sharing is caring!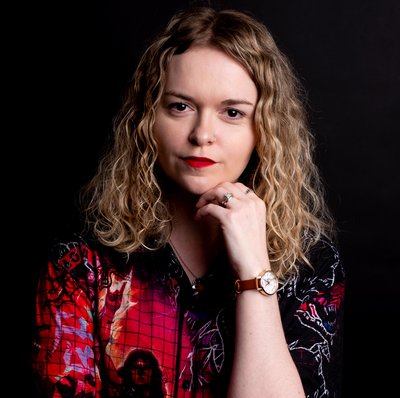 Hi, my name's Zoë. I'm 28 years old and live in London, UK. I work full time as a freelance writer and critic for West End theatre. Writing has been a passion of mine for as long as I can remember. I spend most of my free time at the theatre, or at conventions. I'm married to the love of my life, and live in a small apartment with my fur baby, Lillie. I run two of my own blogs: No Safer Place and Stage to Page: both of which have won awards. I also have a YouTube channel where I talk about all things stagey.