Last Updated on August 6, 2022 by Guillermina
There are so many recipes that you can use Dried Chile Ancho Substitutes in when finding dried chili peppers is hard! I love peppers and want them to last longer! The benefits of drying and carefully storing hot peppers are worth the time is taken to dehydrate them!
In just a few moments, you will learn about five interesting and unique Dried Chile Ancho Substitutes. With so many different hot peppers to choose from, you will have many choices for both color and texture. There are a lot more than just five potential substitutes though!
What Are Dried Chile Ancho Peppers?
Before we can find the right Dried Chile Ancho Substitutes, we need to know what dried chile peppers. In general, these delicious and mildly hot peppers originate from Mexico and most parts of the Southwest United States.
These ancho peppers, usually poblano peppers, are chili peppers that go through a drying process. The drying process takes time, but is easy to do at home as long as you have the right tools and resources. Before drying poblano peppers, they are a dark purple/red or black.
How To Properly Dry Chile Ancho Peppers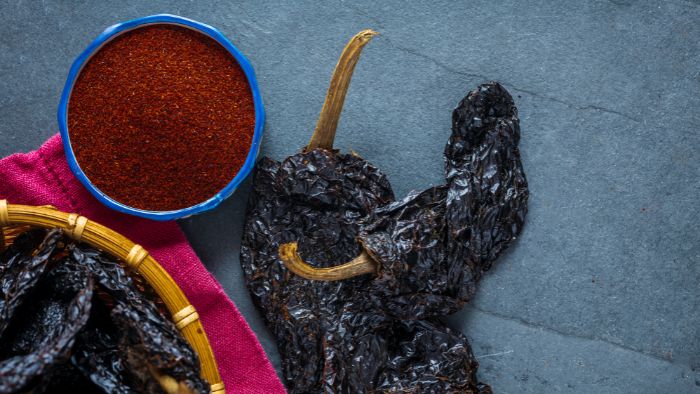 The best way to dry chile ancho peppers is to use a dehydrator. This dehydrator uses intense heat to dry and takes the moisture out of hot peppers. For this to work, choose an ancho pepper that is not fully ripened off of the plant.
Before you can dry your chile peppers, though, it is important to prepare the ancho peppers. First, you will need to take the seeds out of the hot pepper. The seeds are edible, but they do get in the way of the drying process.
Not everyone has a dehydrator, which is okay! You can always dry poblano peppers naturally outside or in an open space. The oven, on low, can also suck out or dry the excess moisture from hot peppers.
What Recipes Use Dried Chile Ancho Peppers
The most common recipes that use Dried Chile Ancho Substitutes are beef brisket recipes and sauce for chips or marinating meat. These mixtures are flavorful and delicious, but are very hot! Since they pack heat, you should only use ancho peppers in stews and soups if you can handle the heat.
Rehydrating Dry Chile Ancho Peppers
Some recipes require dry chile ancho peppers that are rehydrated and have a similar texture to regular poblano peppers. First, you will need to boil hot water for about 30 minutes. Once the water is hot enough that it is boiling with ease, add the dried peppers to the water.
Cover and boil for about 15-20 minutes. Sometimes it takes less time depending on how hot the dried chile ancho peppers.
5 Interesting And Unique Dried Chile Ancho Substitutes
The most common and unique Dried Chile Ancho Substitutes are listed below with a list of tips and tricks to use.
1. Chipotle Peppers
Chipotle peppers are hot and skinny peppers. These are not the best substitute, but can be used in recipes instead of dried ancho peppers. The problem with chipotle peppers is they are almost four times as hot as dried ancho peppers.
These types of peppers are very similar to ancho peppers because they can be easily dried, rehydrated, and crushed into a powder seasoning.
2. Poblano Peppers
Technically, poblano peppers are ancho peppers. However, using them not dry can give you a similar taste or texture. These peppers are thick and perfect for stuffing with different meats, cheeses, and sauces. They are milder though and have a crunch compared to dried peppers.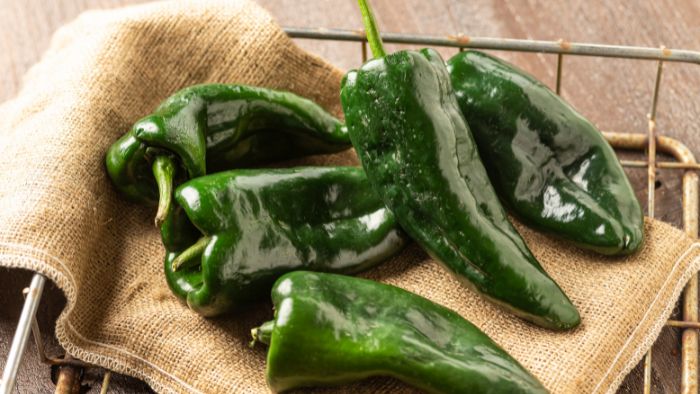 3. Large and Thick Jalapeno Peppers
I like using jalapeno peppers in almost all of my recipes. So, if you do not have dried ancho peppers, try using large and thick jalapeno peppers. Jalapeno peppers grow large, long, and thick. They are only slightly hotter than a dried ancho chili. Since this is the case, use less jalapeno pepper seasoning in your cooking.
4. Guajillo Peppers
Guajillo peppers are other similar peppers with vibrant colors. For instance, these peppers are dark and almost always dry. They are great for cooking on the grill and perfect for smoky flavors. Using these peppers in stews and soups, gives the base of the soup a unique flavor.
5. Ancho Paste or Ancho Powder
Instead of fully dried peppers, find a paste or make your own by blending with garlic and other ingredients. It is inexpensive to use ancho seasoning powder for taste and color. However, there is a huge difference in texture between ancho paste, ancho powder, and ancho peppers.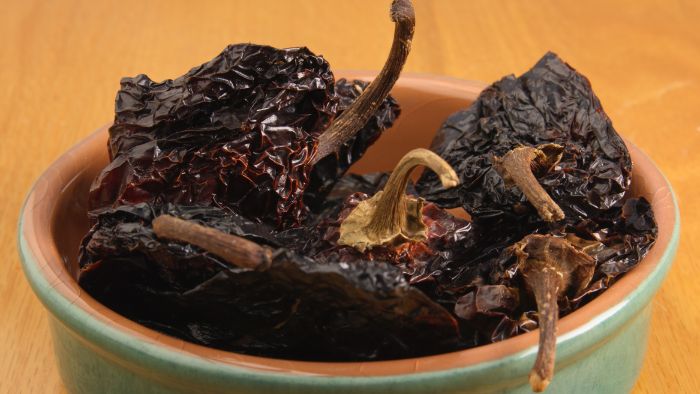 Tips And Tricks For Using Dried Chile Ancho Peppers
There are a few tips and tricks I can provide you with when using dried chile ancho substitutes. Well, if you cannot find these dried peppers in stores, try buying them online! There are many online retail stores that sell authentic Mexican dried peppers and seasonings.
If you want your delicious dried chile ancho substitutes to last long, you will need to store them well so that they last a lot longer. For example, keep these peppers in a tight lid or bag. Make sure that extra air does not travel inside the space protecting the dried ancho peppers.
Once rehydrated, these peppers last less time and will need to be used quickly. If not, the dark space with moisture grows mold leading to the pepper rotting.
Conclusion
Since cooking with hot ancho peppers is common, it is not too hard to find Dried Chile Ancho Substitutes. Instead, I recommend going to your local grocery store and looking for dried chile ancho substitutes that are made with dried chiles, but are not actual physical chile peppers.
What do you think about our long list of Dried Chile Ancho Substitutes? Let us know in the comment section below, we are always happy to hear from you! Know anyone interested in Dried Chile Ancho Substitutes? Send them our way to spread the knowledge!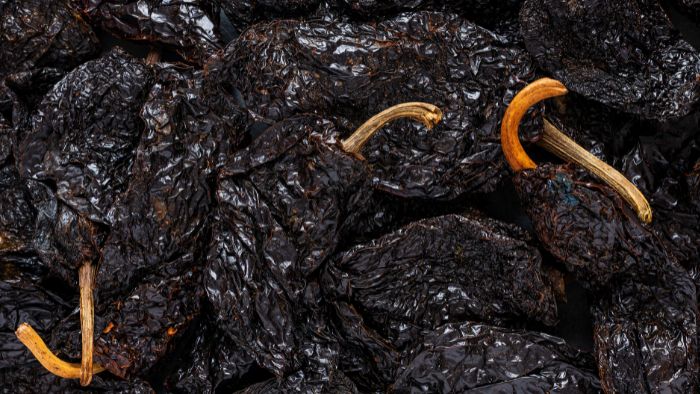 FAQs
What is similar to ancho chili?
Ancho chili peppers are similar to other hot and large peppers that are great for stuffing and drying. For example, poblano peppers are a good substitute because of heat as well as texture and size.
What can I use instead of ancho powder?
Instead of ancho powder, try hot red chili flakes, jalapeno seasoning, or paprika powder! The color is slightly different, but the intensity of the flavor is there!
Can I substitute smoked paprika for ancho chili powder?
You can substitute smoked paprika for ancho chili powder, but the color is different. Paprika is a bright orange and red that has an almost tangy or sour taste.
Can I substitute ancho chile for chili powder?
You can substitute ancho chile peppers for chili powder, but you will need to use a significant amount of chili powder.
Nixza is a passionate chef who loves to cook Mexican food. She has been cooking since a young age and has developed a deep understanding of the flavors and techniques of Mexican cuisine. She strives to bring the flavors of Mexico to life in every dish she creates. Nixza loves to experiment in the kitchen and is always looking for new recipes to add to her repertoire. Whether it's a traditional dish or something more modern and inventive, Nixza loves to share her passion for Mexican cuisine with friends and family. Her delicious creations have earned her a loyal following of admirers, who enjoy her unique and flavorful dishes. Nixza is passionate about making sure her food is both delicious and healthy, and she takes great pride in the quality of her recipes.