Last Updated on November 1, 2021 by Guillermina
What exactly makes this steak dish so rancher-esque? As one of the most celebrated dishes in all of Mexican cuisine, it is a staple at countless restaurants because of its zesty and savory ingredients. 
It features the most popular ingredients in Mexican food, namely onion, jalapeño pepper, and tomato, as well as grilled steak. As a matter of fact, it's considered deeply patriotic as it joins harmoniously the colors of the Mexican flag. 
At any rate, it is simpler to prepare than you might imagine as it involves a few, easy-to-follow, steps. By adhering to an authentic steak ranchero recipe, anybody is welcome to enjoy this scrumptious Mexican dish that's sure to leave you feeling satisfied! 
What Makes It An Authentic Steak Ranchero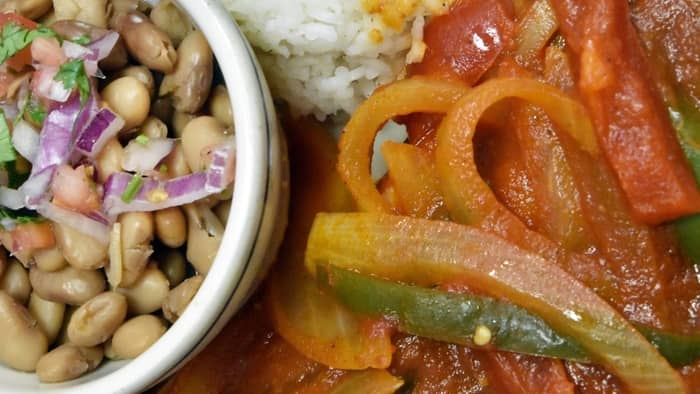 Many people think that steak ranchero and steak a la mexicana are the same thing. Although they do share the same ingredients, there is a huge difference in the way that they´re prepared. 
The tomato, peppers, and onion are sliced for the steak a la mexicana, however, when preparing ranchero steak you need to grind these ingredients in a molcajete or a blender to nail its unique flavoring. 
The Magic Of The Mexican Steak Ranchero Recipe 
The secret of this dish is in the paste that comes from grinding garlic and peppercorns in a blender or molcajete. The idea is to rub this paste on the steaks before easing them in the hot oil, kind of like a marinade. 
You also need to grind the onions and the peppers to add them to the steaks after you cook them for 6 minutes on both sides on a skillet. 
The same process goes for the tomatoes which are placed on top of the steaks. Everything should be cooked within the covered skillet for five additional minutes. 
Side Dishes For Steak Ranchero
This dish is generally served alongside fried rice, pot beans, and fresh corn tortillas. Many people love to enjoy steak ranchero with previously fried potatoes. 
Conclusion
You can easily cook steak ranchero from the comfort of your home as it doesn´t require very many ingredients. Cooking a Mexican steak ranchero only takes roughly 30 minutes to prepare. 
It is both delicious and nutritious because it includes fresh vegetables. If you're looking for that perfect dish that will bring friends and family closer together, this beef ranchero it's sure to enliven the mood! 
Keep in mind that taking your time is essential, after all, it's a pretty straightforward recipe, and every step matters. Hopefully, in the process, you'll attain a greater appreciation for Mexican culture as a whole! 
If you have any questions regarding its preparation, please, don´t hesitate to write to us. We´ll be more than happy to clear things up for you and help you make the best meal for yourself and your loved ones. 
Read more about A Delicatessen For Mexican Food Lovers: Nopales In A Jar
Casia is a passionate home cook who loves to share her love of Mexican food with the world. She has been cooking since she was a child, helping her grandmother in the kitchen and learning the traditional techniques used to create delicious Mexican dishes. Casia loves to experiment with new ingredients and flavors, always looking for ways to make her dishes even more flavorful. She is also passionate about teaching others about Mexican cuisine and its rich history. When she is not in the kitchen, Casia enjoys exploring new cultures, traveling, and spending time with her family.