Last Updated on December 3, 2022 by Cristina
Today, we're going to be looking at an authentic Mexican pork burritos recipe. Whatever time of the year it is, Mexican dishes always go down as a treat in my household. Pork burritos are one of my favorite variations of burritos, and once you try this recipe, you'll understand why. It's perfect for a midweek meal, or a special occasion – it really is that versatile. But how do you go about making an authentic Mexican pork burritos recipe? Let's take a closer look.
What Is A Mexican Pork Burrito?
Some people refer to them as Mexican pork burritos, but their official name is carnitas. Carnitas translates to "little meats" and is a popular Mexican dish. Carnitas can be made using chicken breast or chicken thighs, but they are predominately made by braising/slow-cooking pork. After a few hours, the meat will become tender and juicy. It's then served alongside toppings such as refried beans, onion, salsa, guacamole, and cilantro. It's then served in a tortilla.
What Is In A Traditional Mexican Burrito?
When it comes to most Mexican dishes, they usually all contain a tortilla, filled with meat, beans, or cheese; or a combination of the three. A traditional Mexican burrito is no different. When it comes to carnitas (a Mexican pork burrito), it's usually made using heavily marbled or picnic ham cuts of pork. It's then served in a tortilla, alongside toppings such as refried beans, onion, salsa, cilantro, and guacamole.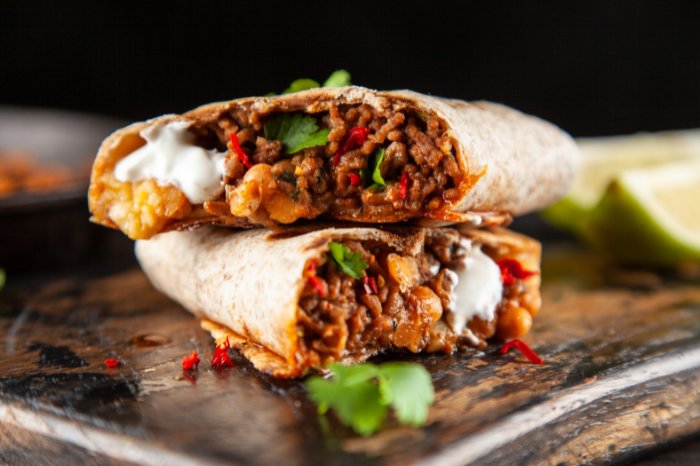 Ingredients In Mexican Pork Burritos
Ingredients for Mexican pork burritos can vary depending on which recipe you're following. Our recipe contains the following:
pork shoulder roast
onion
garlic
taco seasoning mix
water
diced tomatoes
green chiles
shredded cheddar cheese
tortillas
vegetable oil
Nutritional Information Of Mexican Pork Burritos
You may be wondering what the nutritional value of Mexican pork burritos is. Our recipe makes around 20 tortillas. Each tortilla contains the following:
Calories: 462
Fat: 22g
Saturated Fat: 9g
Cholesterol: 52mg
Sodium: 1028mg
Carbohydrates: 44g
Dietary Fiber: 4g
Sugar: 3g
Protein: 20mg
Authentic Mexican Pork Burritos Recipe
There are a plethora of authentic Mexican pork burrito recipes available, but this one is my absolute favorite. You can serve this dish with a range of toppings such as lettuce, guacamole, salsa, sour cream, or cilantro – whatever your favorites are. This recipe is inspired by one from All Recipes. Let's take a closer look.
Ingredients
3lb of pork shoulder roast (bone-in)
1 sliced onion
6 chopped garlic cloves
2 packets of taco seasoning mix
1 can of diced tomatoes
6 cups of water (or as needed)
1 can of refried beans
1 can of chopped green chiles (or less, if you'd like it milder)
1 packet of shredded cheddar cheese
10-inch flour tortillas
vegetable oil (around 1/4 of a cup)
Instant Pot Duo Plus, 8-Quart Whisper Quiet 9-in-1 Electric Pressure Cooker, Slow Cooker
Recipe
Step 1: Cook The Pork
Add your pork shoulder roast to a large pot with water just covering the meat. Now add your onion, garlic, and one packet of taco seasoning. Mix well and leave on medium-low heat until cooked, juicy and tender. This should take around 2-3 hours and should no longer be pink. You can leave it unattended but may need to check every 45 minutes or so to add extra water, if necessary. Once cooked, keep around one cup of the cooking juices on one side.
Step 2: Add The Fillings – Authentic Mexican Pork Burritos Recipe
Once cooked, using a fork, shred the pork. Remove the bone and any unnecessary fat. Now add in your refried beans, green chiles, and another packet of taco seasoning. You may need to add your one cup of cooking juice if it appears too dry. Mix well.
Step 3: Assemble Your Burritos
In each tortilla, add some of the pork to the center and add some of the shredded cheese. Fold the tortilla into a burrito shape (fold and bottom and top over the filling and then roll to enclose). Repeat until all of the filling has been used up.
Step 4: Fry The Burritos
Add around two tablespoons of oil to a pan or skillet. Each tortilla will need around two minutes of frying on each side. They should be golden when finished. You'll need to fry the burritos in small groups (depending on the size of your pan). Once fried, place on a paper towel to dry any excess oil.
Step 5: Serve – Authentic Mexican Pork Burritos Recipe
Once drained, serve the burritos with toppings of your choice, including salsa, guacamole, sour cream, cilantro, lettuce, tomatoes, etc.
What Are Pork Burritos Called?
The traditional name for pork burritos is carnitas. Carnitas simply translates to "little meat". While pork is the usual filling for carnitas, chicken breast and thighs can also be used too.
How Do I Make Ground Pork Burritos?
If you're looking to make ground pork burritos, the recipe is very much the same, except for the meat you're using. You can buy ready-ground pork from most supermarkets, or you can make your own in a food processor; that way you can control the thickness, cut, and fat content. Other than changing the texture of the meat, you can follow the above recipe to make ground pork burritos.
How Do You Make Carnitas For Burritos?
Carnitas is usually made by braising/cooking a cut of pork. It's often cooked for several hours, with a range of herbs and spices added. It's then deboned, shredded and served with a range of fillings and toppings in a tortilla.
Conclusion – Authentic Mexican Pork Burritos Recipe
I hope this post has helped you to become more familiar with an authentic Mexican pork burritos recipe. The best part about this recipe, besides the taste, is how easy it is to make. You can prepare it at the beginning of the day, and get on with other daily activities – and then come back to the most delicious home-cooked meal.
Do you have any tips or tricks when it comes to making Mexican pork burritos? If so, please feel free to let me know in the comments below. Sharing is caring!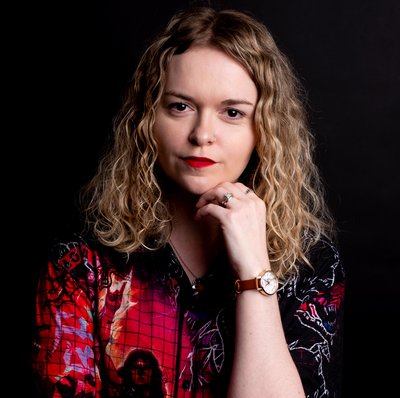 Hi, my name's Zoë. I'm 28 years old and live in London, UK. I work full time as a freelance writer and critic for West End theatre. Writing has been a passion of mine for as long as I can remember. I spend most of my free time at the theatre, or at conventions. I'm married to the love of my life, and live in a small apartment with my fur baby, Lillie. I run two of my own blogs: No Safer Place and Stage to Page: both of which have won awards. I also have a YouTube channel where I talk about all things stagey.