Last Updated on May 10, 2022 by Guillermina
Have you struggled to find the right New Mexico Green Chile Chicken Enchilada Recipe? We get it, there are so many out there! It is true that each recipe calls for special ingredients and equipment unique to the writer and cook. However, don't be alarmed, I have simplified the process to 6 easy and quick steps.
Keep on reading to follow along with this delicious, simple, and easy to read New Mexico Green Chile Chicken Enchilada Recipe.
The History Of Chicken Enchiladas
First, lets learn a little more! Enchiladas are not new! These rolled tortilla dishes were originally consumed and made by the Aztecs. However, in there version,  the rolled corn flour tortillas were gritty with bits of corn from processing.
Enchiladas were desired by commoners as well as nobles. They were first made as tribute foods, and became popular and easy enough to make that everyone at enchiladas. However, during this time, enchiladas were filled with other native ingredients, like squash, beans, and turkey.
Eventually chicken became a staple in Mexican food when the Spanish came with their cattle! Now most enchiladas are made with chicken or beef.
New Mexico And Authentic Mexican Food
New Mexico borders Mexico, which is why it is not surprising that there is a huge Mexican food scene. Some Mexican Americans have been living in New Mexico since the beginning of their ancestry and as old as they can check! It is interesting and has led to delicious food creations.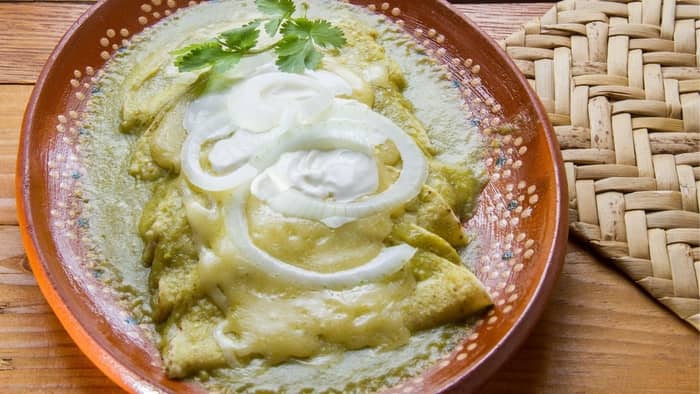 What You Will Need In This New Mexico Green Chile Chicken Enchilada Recipe
Ingredients
1 Yellow Sweet Onion Diced
1 Clove of Garlic Minced
2 tbsp of Olive Oil
Sazon seasoning packet. If you prefer making your own seasoning, you do not have to use this all-purpose mixed seasoning. Instead, make one of your own. It is common to use cayenne and paprika pepper!
12 oz of Cream of Mushroom Soup
6 oz of Chicken Broth
32 oz of green chile sauce
3 Cups of Fiesta Blended Cheese. For a fresher cheese…
1lb of Shredded Chicken Breast. Can be any part of the chicken…
Equipment
Oven
Stove Top
Bowls
Clean Space
Measuring Cups
Baking Pan
Step By Step Instructions For This New Mexico Green Chile Chicken Enchilada Recipe
Step 1: Prepare the Ingredients
The first step in this New Mexico Green Chile Chicken Enchilada Recipe is to prepare the ingredients. Once you prepare the ingredients (chop the meat and vegetables and measure the food items), set them all aside!
Step 2: Cook the Chicken
It is important to cook and shred the chicken before placing and rolling it into the enchiladas/tortillas. In a large pan, Sautee the chicken alongside a bit of oil and your preferred seasonings. You can either cook the chicken entirely or shred it first before adding it to the oil!
To add more flavor and moisture to the shredded chicken, I also recommend adding just a splash of chicken broth. This can make all the difference!
Step 3: Preheat Oven and Blend Ingredients
To make the sauce taste better since sometimes canned sauce lacks flavor, I recommend blending the rest of the ingredients during step 3 of this New Mexico green chile chicken enchilada recipe. It is as easy as adding the ingredients to the blender and hitting start.
Right before using the blender, I recommend preheating the oven to 350 degrees Fahrenheit. This way the heat is consistent and cooks the enchilada dish thoroughly.
Step 4: Combine All the Parts
Before we can leave this delicious dish in the oven, it is important to combine all of the parts or ingredients to a glassware dish that is safe for the oven. Stuff the warmed-up tortillas with shredded chicken, cheese, and some of the Verde sauce.
Repeat this for the other fourteen tortillas and place them into the dish. Over these tortillas, add the green enchilada sauce over. Then, add cheese.
Step 5: Oven for 30 Minutes
During the fifth step in this New Mexico green chile chicken enchilada recipe, place the dish directly into the oven, as close to the heat as possible. Set a timer for a minimum of thirty minutes and wait. Once it is cooked, you will take out the dish and let it cool before serving.
Step 6 (Optional): Add Toppings
Although step 6 in this New Mexico green chile chicken enchilada recipe, is optional, it is a favorite! Authentic enchiladas in Mexico do not require additional toppings, however, I love the taste and textures it brings to the enchiladas. This is why during this step add any toppings you would like (avocado, tomatoes, cheese, etc).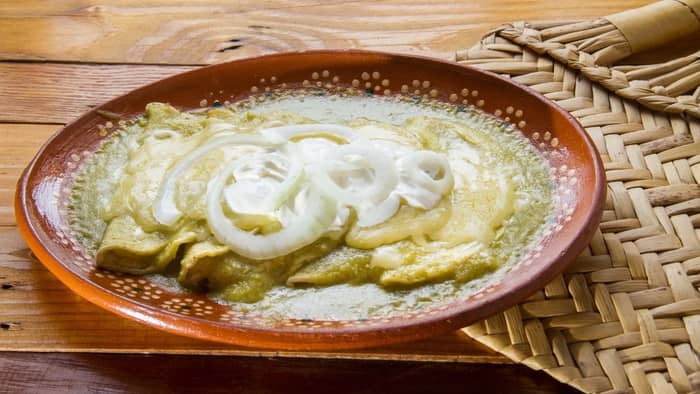 Tips and Tricks
There are not a lot of tips or tricks I have for you today. This New Mexico green chile chicken enchilada recipe is relatively easy to follow and does not require extra steps. Although I say this, I do have one trick for those who like golden melted cheese on top.
Adding one thin layer of aluminum foil can cover the top layer from direct exposure of the heat. The direct exposure is what causes the burnt parts. I also recommend making your own green chili sauce and freezing it for leftovers if you have time.
Green chili enchilada sauce is delicious, but when it is canned, the flavor is not strong. Although it is okay to use the canned version, you should simmer it before adding it to your enchilada dish and add other seasonings and vegetables for a lighter and yet spicier flavor.
Servings and Preparation Time
| | | |
| --- | --- | --- |
| Cook Time | Preparation Time | Serving Size |
| 35 Minutes | 10 Minutes | 7 People |
Now that you have followed this New Mexico Green Chile Chicken Enchilada Recipe, I hope you have learned something new! This delicious dish is a favorite across many Southern states bordering Texas, especially New Mexico. This recipe does take time to cook thoroughly, but it is easy to learn.
The best part is how flexible the New Mexico Green Chile Chicken Enchilada Recipe is! You can make it your own by adding or eliminating ingredients at your own will. Have any thoughts on our New Mexico Green Chile Chicken Enchilada Recipe? Let us know down below and share this recipe with friends interested in cooking!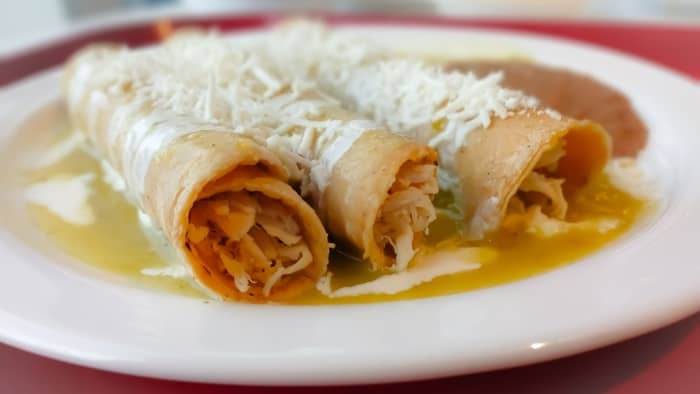 FAQs
How do you make canned green enchilada sauce taste better?
There are many things you can do! I like to simmer the green enchilada sauce on a small pot and add ingredients I like. You want it hotter? Add peppers and seasoning. Need a lighter or fruitier taste? Mango and lime can do the trick!
How do you thicken green chile enchilada sauce?
To thicken green enchilada sauce, you can simmer it in a pot and add thicker substances like tomato paste or a sofrito base.
Is green enchilada sauce the same as verde sauce?
Yes! However, some verde sauces use different ingredients based on who makes the sauce.
Nixza is a passionate chef who loves to cook Mexican food. She has been cooking since a young age and has developed a deep understanding of the flavors and techniques of Mexican cuisine. She strives to bring the flavors of Mexico to life in every dish she creates. Nixza loves to experiment in the kitchen and is always looking for new recipes to add to her repertoire. Whether it's a traditional dish or something more modern and inventive, Nixza loves to share her passion for Mexican cuisine with friends and family. Her delicious creations have earned her a loyal following of admirers, who enjoy her unique and flavorful dishes. Nixza is passionate about making sure her food is both delicious and healthy, and she takes great pride in the quality of her recipes.