Last Updated on May 18, 2022 by Guillermina
Who doesn't love a delicious chipotle burrito bowl? Now you can make your own using this Chipotle Restaurant Pulled Pork Recipe. The recipe details how to make the delicious pork found in Chipotle restaurants in 5 easy to follow and read steps.
It is perfect for beginners that have basic kitchen appliances, just like pressure cookers. You do not need a pressure cooker though to cook this recipe. All in all, this chipotle restaurant pulled pork recipe is delicious and should become a favorite in your household in no time!
What Is The Chipotle Restaurant Pulled Pork Recipe?
Although there are many versions of this copycat recipe, this chipotle restaurant pulled pork recipe yields a portion large enough for eight people. Meaning if you are making this for a small family, there is more then enough for leftovers!
The thing about this chipotle pulled pork recipe is that it requires a lot of patience and time. You need to ensure that you have the time for the pork to slowly cook. For this recipe, I will be using a slow cooker, but a large simmering pot can do the trick too!
The Benefits Of Eating Pulled Pork
Did you know that there are some benefits to eating pulled pork? Although it is true that you should still limit your red meat and pork intake, this does not mean that pork is unsafe. Actually, in one serving of pork, you can find 25.7 grams of protein, an essential nutrient for energy.
Not only is this meat packed with protein, but it is also considered healthy because of the lack of fat. Since the meat has enough fat, you don't need to use grease or oil to cook the meat, which can decrease the chances of high cholesterol.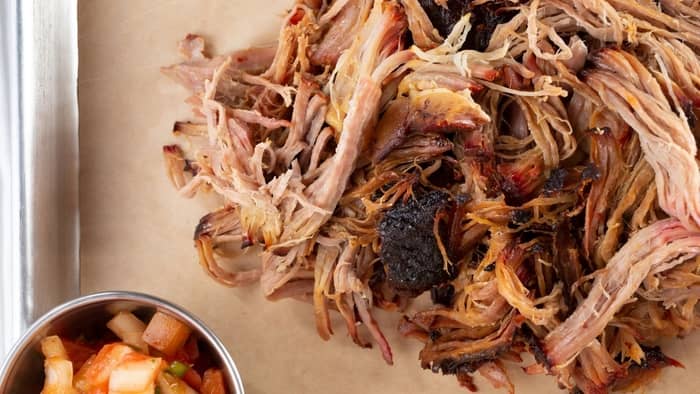 What You Will Need For This Chipotle Restaurant Pulled Pork Recipe
Ingredients
It is not always easy to find this specific cut of meat. If you cannot find it, you can try and look for an upper leg or upper loin.
2 Cloves of Garlic Minced
1 tbsp of Salt
1 tbsp of Paprika
1 tsp of Chipotle peppers
2 tsp of oregano
1 tsp of cumin
1 Cup of Chicken Broth
If you want to emphasize the flavor of the pork, you can use a pork broth.
Equipment
Slow Cooker
Cutting Board
Cutting Knife
Clean Working Space
Ziplock Bag
Large Bowl for Seasoning
Meat Thermometer
Spoon to Mix Ingredients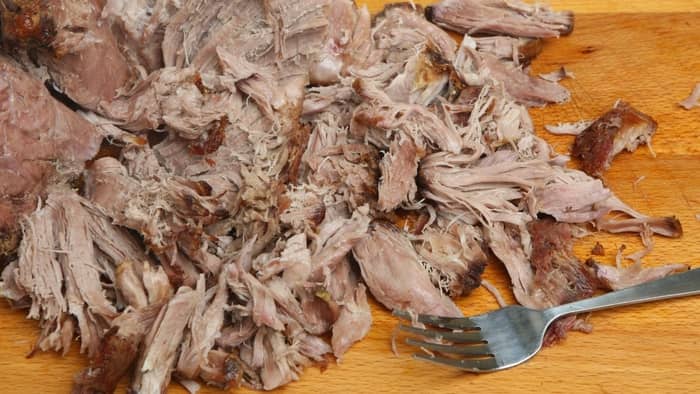 Step By Step Instructions For This Chipotle Restaurant Pulled Pork Recipe
Step 1: Marinade and Prepare the Meat
The first step has to be the most important step, you will need to marinade and prepare the meat. I like to make small thin slices throughout the pork shoulder during this chipotle restaurant pulled pork recipe. Next, I add the meat to a large Ziplock bag. In this bag, I add the seasonings and spread it around using my hands.
Step 2: Cut the Vegetables
During the second step in this chipotle restaurant pulled pork recipe it is good to cut the vegetables. Although the main vegetable ingredient in this recipe is garlic, you can add onions if you would like. Some people make carnitas into a roast and add potatoes and carrots, although this does change the texture and flavor.
Step 3: Place the Ingredients Together
In the crock pot or slow cooker, you will need to add the marinated meat with the rest of the prepared ingredients. Place them carefully and mix with a stirring spoon.
Step 4: Cook and Simmer in Slow Cooker/ Crock Pot
In the crockpot, cook on a low heat setting for a minimum of four hours. I like to consistently check to ensure that the meat is cooking. You will start to smell the savory scent of cooked chipotle pulled pork throughout your home.
Step 5: Cut, Cool, and Serve
The hardest part of this chipotle restaurant pulled pork recipe is the last step, cutting the meat! I am not the best at cutting the meat and sometimes make mistakes, but that is okay. On your cutting board, let the meat cool. Then, slice and shred it, while also taking out any muscle or fat that does not look good.
Tips and Tricks For Making This Chipotle Restaurant Pulled Pork Recipe
There are also many tips and tricks you can use while making this chipotle restaurant pulled pork recipe that will make it easier! First, I recommend cooking the pulled pork recipe in a crock pot or pressure cooker with a liner. Stores sell plastic lines that make cleaning up this greasy and marinaded dish easy!
Clean up is not the only tip I can provide. If you want a more flavorful pulled pork, it is important to start the process at least 24 hours before you cook the meat in the cooker. I like to poke holes using a thin knife or toothpick. This will give area and space for the marinade to soak throughout the meat.
To collect all of these flavors, place the meat and the seasonings in a plastic bag. Place this mixture in the fridge, defrosted, for a minimum of 24 hours. Also, if you are not sure when the dish is done after you have placed it inside of the slow cooker, you should consider using a thermometer to check the internal temperature of the dish.
Servings and Preparation Time
| | | |
| --- | --- | --- |
| Cook Time | Preparation Time | Serving Size |
| 5 Hours | 20 Minutes | 8 People |
Chipotle carnitas are hard to resist! This meat is delicious and is a favorite for many Chipotle customers that love to add it in their tacos, burritos, and burrito bowls. While this is the case, it can be expensive to constantly order this dish. Thankfully though, this chipotle carnitas recipe is easy to follow and make!
As long as you properly cook and season the meat, you can't go wrong! Since the pork is slow cooked, the meat becomes tender and almost falls apart and shreds on its own. Did you learn anything new about making your own chipotle style carnitas? Let us know and don't forget to share with friends and family!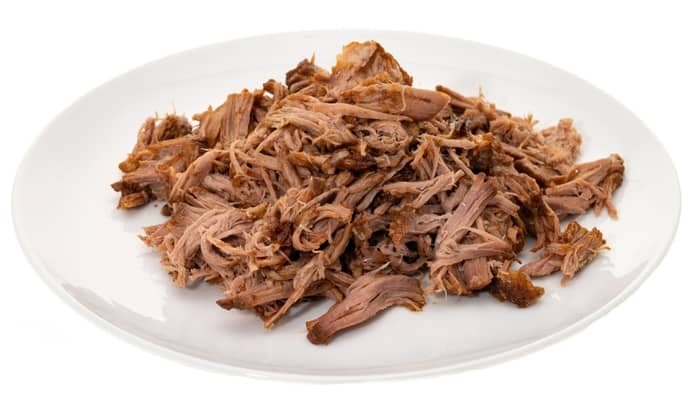 FAQs
What is chipotle carnita made of?
Chipotle carnitas meat is made out of pork that is slowly cooked.
What is the pork at Chipotle?
The pork at chipotle is slowly cooked with seasonings and then added into dishs.
What is the difference between pulled pork and carnitas?
The biggest different between pulled pork and carnitas is that pulled pork is pork that has been shredded while carnitas is shredded pork with Mexican style seasonings.
Nixza is a passionate chef who loves to cook Mexican food. She has been cooking since a young age and has developed a deep understanding of the flavors and techniques of Mexican cuisine. She strives to bring the flavors of Mexico to life in every dish she creates. Nixza loves to experiment in the kitchen and is always looking for new recipes to add to her repertoire. Whether it's a traditional dish or something more modern and inventive, Nixza loves to share her passion for Mexican cuisine with friends and family. Her delicious creations have earned her a loyal following of admirers, who enjoy her unique and flavorful dishes. Nixza is passionate about making sure her food is both delicious and healthy, and she takes great pride in the quality of her recipes.