Last Updated on October 14, 2022 by Griselda M.
Tamales are a favorite amongst Mexican households near the holidays, which is why it makes sense to ask yourself 'What Sauce Goes on Tamales'? Tamales are so big that the Mayans even had their own hieroglyphic of the figure of a tamale.
Now, over three thousand years later, tamales and the sauce they bring are just as popular. You are in luck as we will learn about tameless and the traditional sauce they use. The sauce packs flavor and a kick of heat, which in turn leads into the tamale giving it more flavor.
What Are Tamales?
Tamales are not a new invention, they have been around from 8000 BC to 5000 BC. Tamales are indeed true authentic Mexican traditional food. From what we know, these were eaten long before the Spanish came to the Americas.
At first Mayans and Aztecs ate Tamales and tortillas. They were often eaten by royalty as well. This treat was likely a favorite throughout its long history because of the many bold flavors that tamales can take. It is also easy to pack and eat on the go and yet has nutrients and vitamins!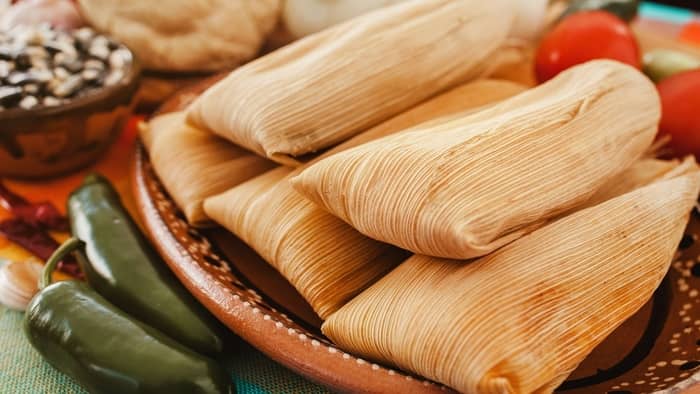 What Sauce Goes On Tamales
Not everyone uses the same sauce for tamales. Some people use enchilada sauce or cheese sauce as the flavor is milder. However, for those of us who love red chili peppers and spice, it is common to add Red Chili Pepper Sauce on top.
This tamale sauce is a favorite and also a part of the history behind tamales. Before the Spanish came with their cheese and cattle, the sauce that went inside and dipped into tamales was a rich red chili pepper paste. The thick paste is delicious and packs heat!
The best thing about making your own tamale sauce though is that you can change the flavor as you like. No more will you What Sauce Goes on Tamales since you can decide what sauce goes on tamales for your family! I have tried a green tomatillo lime sauce that was delicious!
How To Make Tamale Sauce? – 5 Steps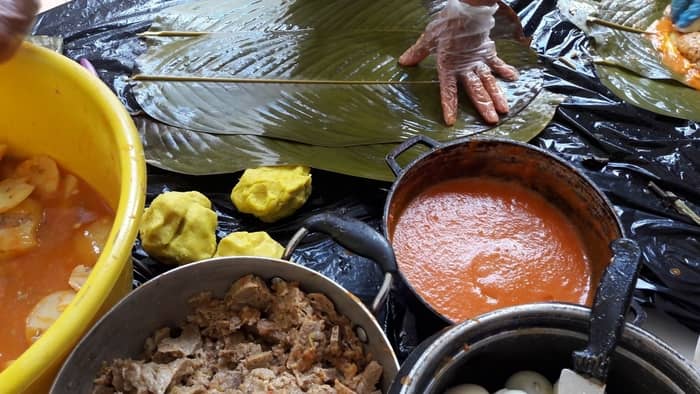 For this quick recipe, I will be showing you how to make an authentic and traditional red chili pepper tamale sauce. It only takes five steps, and by the time you are done with this recipe, you will have more than enough tamale sauce for leftovers and storage!
I like making this sauce in bulk and freezing it for use in cooking. It is a delicious staple that you can simmer in a pot after freezing with a small amount of water and oil! The flavor and heat don't go away quickly.
1. Prepare the Fresh Red Chilis
The first step you must complete is preparing the fresh red chilis. If you are interested in making this sauce goes on tamales recipe, you will need to use red chili peppers that are long and ripe. The deeper the red, the hotter the pepper!
To prepare them, use a cutting board and a knife. Slowly and carefully cut out the pit as well as the seeds from the chilis. Depending on the quantity of sauce you want to make, you can cut 10-20 red chili peppers in one large container.
2. Bake the Chilis on Low
Once you are done preparing your red hot chili peppers, you will need to bake them slowly on low. Technically, this step is not needed if you have and use dried red chili peppers. When using dried peppers, you will rehydrate and blend them in water and oil.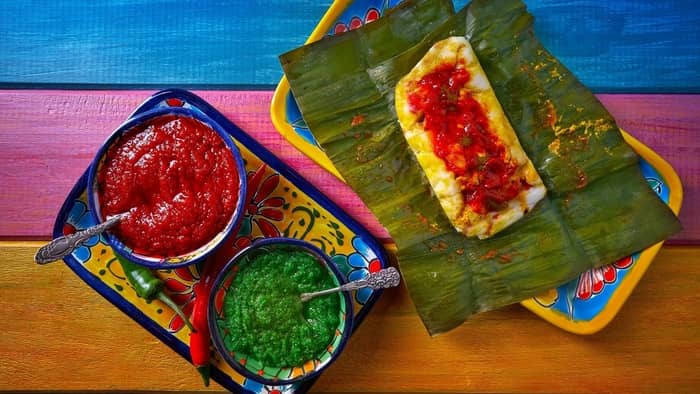 3. Prepare Vegetables and Seasoning
Most of the time, other vegetables and seasoning powder are added to the sauce. As the peppers dry and bake on low, prepare the vegetables. I like adding yellow onions as well as garlic since it kicks and adds more flavor. This will help with the heat in what sauce goes on tamales.
Chop them up finely and place the ingredients in a small bowl. This way, it is easier to pour into your blender and blend. There should be way more red chili peppers than onions and garlic!
4. Blend the Ingredients
Keep in mind that you will likely need to do this step in different sections. When figuring out what sauce goes on Tamales, you need to blend the chili peppers with a small amount of water. This will create a thick and hot paste. While I take the seeds out, you can blend the seeds too, but the heat will be more intense.
In a blender, once the paste is created, add the remaining ingredients. I am being vague in this article and recipe because the flavor depends on what you like! My favorite part about cooking is how personalized you can make it!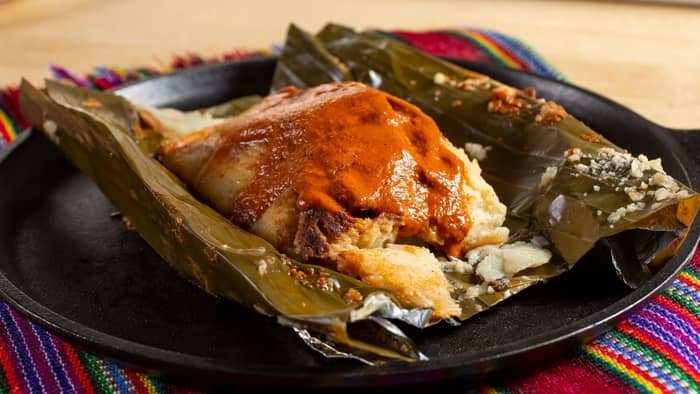 5. Simmer on Low
Once the ingredients are all blended, technically you don't have to cook the sauce until you use it in your next recipe. That being said, when looking into what sauce goes on tamales, I like to add warm it up and simmer it on the stovetop in a large metallic pot.
Did you know that once you cook peppers and other ingredients, the taste becomes more intense? Not only does the overall heat of the sauce increase, but there is a smoky flavor left behind that is delicious! This unique flavor brings interesting notes to your homemade tamales! You can use this sauce for tacos too!
Conclusion
All in all, the answer to what sauce goes on tamales is any! However, if you want to know what sauce goes on tamales that are more accurate and traditional, then you are looking for the red chili pepper paste sauce! It is a vibrant red that decorates tamales.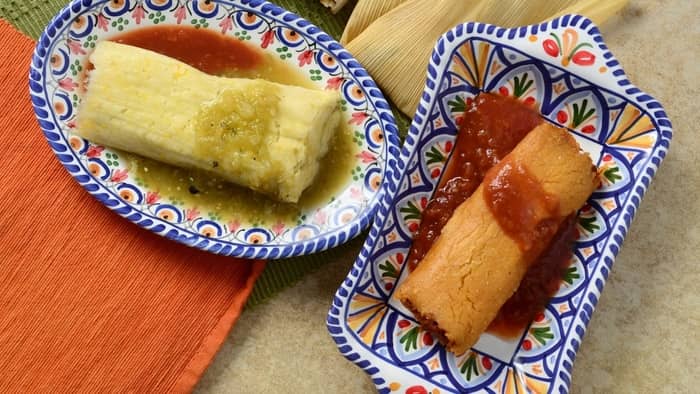 Did you learn anything new about what sauce goes on tamales? The five easy-to-follow steps above are perfect for recreating this traditional and delicious sauce. If you know anyone else interested in creating this sauce, which is what sauce goes on tamales, share this blog with them!
FAQs
Can you use enchilada sauce for tamales?
Yes! Technically, there is nothing wrong with using enchilada sauce on your tamales. That being said, the sauces are different! Some people use the same sauce, while others create a distinction. They both use red chili peppers and seasonings!
What kind of sauce goes on tamales?
Tamales use a red hot chili pepper sauce!
What sauce goes on top of tamales?
Red chili pepper sauce goes on top of tamales as it gives a kick and some color to the food!
Nixza is a passionate chef who loves to cook Mexican food. She has been cooking since a young age and has developed a deep understanding of the flavors and techniques of Mexican cuisine. She strives to bring the flavors of Mexico to life in every dish she creates. Nixza loves to experiment in the kitchen and is always looking for new recipes to add to her repertoire. Whether it's a traditional dish or something more modern and inventive, Nixza loves to share her passion for Mexican cuisine with friends and family. Her delicious creations have earned her a loyal following of admirers, who enjoy her unique and flavorful dishes. Nixza is passionate about making sure her food is both delicious and healthy, and she takes great pride in the quality of her recipes.