Last Updated on December 3, 2022 by Cristina
Today, we're going to be taking a look at an authentic chicken empanada recipe. Whether you're looking for a tasty way to use up any leftover chicken or looking for an easy recipe to use at any upcoming celebration, then look no further. They make for the perfect appetizers and once you make them once, you'll be making them non-stop – they really are that good!
What Is Chicken Empanada?
If you're from South America or Spain, you'll probably already be familiar with empanadas, as they're a popular appetizer in those places. Empanadas are a type of pastry that are usually filled with meat (in this case, chicken) and a range of vegetables such as potatoes, onions, and carrots. The pastry is filled with chicken and vegetables and then sealed around the edges via pinching and folding. They are packed full of spice and flavor and make for the ideal savory treat.
Ingredients In Chicken Empanada
Ingredients in chicken empanadas can vary slightly depending on how you're making them and which recipe you're using. However, we'll be using the following ingredients for our chicken empanadas:
all-purpose flour
salt
granulated sugar
cold/hot water
unsalted butter
vegetable oil
onions
garlic
chicken
paprika
cumin
black pepper
red chili
egg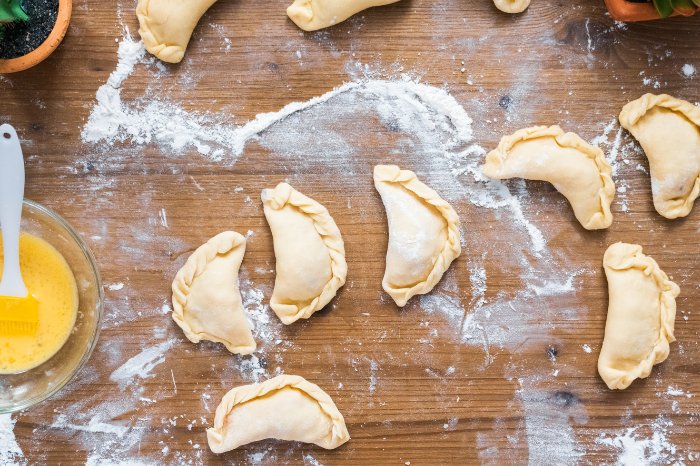 Nutritional Information Of Chicken Empanada
You may be curious as to the nutritional value of chicken empanadas. Each empanada contains the following:
Calories: 213
Carbohydrates: 18g
Protein: 9g
Cholesterol: 51mg
Sodium: 259mg
Potassium: 162mg
Fiber: 1g
Sugar: 1g
What Are Traditional Empanadas Made Of?
Traditional empanadas are usually defined by the folding of dough around a filling. The filling can be absolutely anything of your choice, but traditionally it was just meat and vegetables. The most common is chicken, with vegetables such as potatoes, carrots, and onions.
What Are 3 Types Of Empanadas? – Authentic Chicken Empanada Recipe
While this post has been centred around chicken empanadas, there are actually unlimited options when it comes to making empanadas. They can even be sweet and filled with fruit! Some of my favorites, besides chicken, include ham and honey, strawberry and cream cheese, pork and apple, and beef and onion.
What Are Chicken Empanadas Made Of?
Chicken empanadas are usually made from a dough, consisting of flour, salt, sugar, butter and water. Then the chicken filling is added, which usually consists of chicken, onion and a variety of herbs and spices (such as salt, pepper, garlic, paprika, cumin and chili). However, this list is by no means exhaustive and you can use whichever spices and vegetables you'd like.
Is It Better To Bake Or Fry Empanadas?
If you're looking for a healthier option, it's always best to bake foods in the oven. Oil is extremely high in fat, so baking is the option I always opt for. However, frying is the way to go if you're looking for crunchy, flakier empanadas.
Instant Vortex 5.7QT Air Fryer Oven Combo
Authentic Chicken Empanada Recipe
Now let's get down to the reason you're here – how to make authentic chicken empanadas! We'll be looking at a recipe inspired by Sunday Supper Movement. It's buttery, flaky, and full of spice. It's absolutely delicious and I hope you love it as much as I do.
Ingredients
For the Crust:
2 3/4 cups of all purpose flour
1/2 teaspoon of salt
a pinch of granulated sugar
3/4 cup of melted unsalted butter
1/2 cup of cold water
For the Chicken Filling:
2 tablespoons of vegetable oil
2 diced medium onions
3 minced garlic gloves
1 pound of shredded cooked chicken breasts
1 teaspoon of paprika
1 teaspoon of ground cumin
1 teaspoon of salt
1/2 teaspoon of black pepper
1/4 teaspoon of red chili
1 cup of hot water
For the Topping:
Recipe
Step 1: Make The Dough
Using a food processor with a dough blade (preferably), add the salt, sugar, and flour. Mix well and gradually pour in the butter. Now add the water slowly until you a dough begins to form. It should be soft and smooth. Once ready, form the dough into a ball and place it in the fridge for around one hour, covered in plastic wrap.
Step 2: Make The Filling – Authentic Chicken Empanada Recipe
Pour the oil into a pan and heat over medium-low heat. Once hot, add the onion and cook until caramelized. This should take around 15 minutes and you'll need to stir often. Once the onion is cooked, add the garlic and cook for around a minute. Now add the (cooked) shredded chicken along with spices (salt, pepper, cumin, chili, and paprika). Mix well and pour in the water. Leave to simmer for around 20-30 minutes. Once ready, leave to cool until you need the mixture for your filling.
Step 3: Assemble The Empanadas
Preheat your oven to 350F before you start assembling your empanadas and grease two baking sheets. Dust a surface with flour and roll your dough out thinly. Cut out circles of dough (around 4-5 inches). Once cut, add around two tablespoons of filling into the middle of each disc. Lightly brush the edges with your egg and press the edges of the dough together after folding. Punch the edges and use a fork for best results. Repeat until all dough and filling has been used.
Step 4: Bake And Serve
Add the empanadas to your baking sheets and leave a few inches between each one. Use the remainder of the beaten egg to brush the pastry of your empanadas. Place in your preheated oven for around 20-25 minutes, until golden. Remove from oven – and enjoy!
Conclusion – Authentic Chicken Empanada Recipe
I hope this post has given you an idea of an authentic chicken empanada recipe. Chicken empanadas are incredibly easy to make and they are the ideal appetizer for any upcoming occassion you may have. They're ready in no time at all, and the dough and filling can even be prepared in advance for ease!
Do you have any tips or tricks when it comes to making chicken empanadas? Or have your own recipe you'd like to share? Please feel free to let me know in the comments below.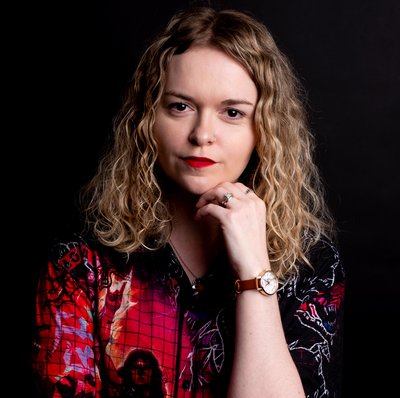 Hi, my name's Zoë. I'm 28 years old and live in London, UK. I work full time as a freelance writer and critic for West End theatre. Writing has been a passion of mine for as long as I can remember. I spend most of my free time at the theatre, or at conventions. I'm married to the love of my life, and live in a small apartment with my fur baby, Lillie. I run two of my own blogs: No Safer Place and Stage to Page: both of which have won awards. I also have a YouTube channel where I talk about all things stagey.