Last Updated on January 8, 2023 by Cristina
Are you ready for the most delicious Sopa de Pata recipe ever? Check out this article, you won't regret it.
Sopa De Pata, also known as Caldo De Pata, can be roughly translated to "hoof soup." We know it might sound a bit strange to most of you, but once you try it, even the pickiest eaters will love it. This Sopa De Pata recipe is rich in contrasts, and contains different textures and opposing flavors that give sweet, bitter, peppery, but above all delicious results. Keep reading, we guarantee you will be delighted.
What Is Foot Soup?
Sopa de Pata or Caldo de Pata is hearty tripe and cow's feet soup dish that hails from Salvador and utilizes ingredients that haven't been popular in Western cuisine lately. In addition, we have to mention that some "secret" ingredients are quite difficult to get in the countries of North America, such as chayotes and cassava, however, there are always decent substitutes that can do their part.
Did you know that this dish is so popular throughout Latin America that it even appears in the paintings of some famous authors? – Unbelievable, but really true! This soup is especially associated with home and family Sunday cooking because nothing brings the family together like a joint meal, right?
Cow Foot Soup Benefits
With our urban lifestyles of today, as well as all the fast food we consume (due to the lack of free time to prepare it), we can miss out on some of the most important benefits of the traditional dishes that most of us grew up with.
We assume that when they imagine each of the ingredients of this Sopa De Pata recipe individually, it might not be everyone's cup of tea, but we have a request for all of you who are here, don't be so quick to shoot it down until you try it first.
Here are a few reasons why you should give it a chance:
Cow's foot contains gelatin which, when introduced into our body, turns into collagen the most abundant protein in the body, which is known for its almost magical properties of helping to make tissues strong and resilient, able to withstand stretching.
Improves digestion as well as gut health.
Reduces joint pain.
Strengthens the structure of your skin, hair, and nails.
Helps in faster healing of wounds.
Improves brain function.
Now that you know what this Salvadoran Sopa De Res recipe is all about, it's time to get down to the details.
Sopa De Pata Recipe
We can't wait to reveal our grandmothers' long-kept culinary secrets to you! P.S. if you don't put in one big spoonful of love, all your efforts will go down the drain!
Ingredients
2 cow's feet
3 lb beef tripe
9 cups of water
1 head garlic
2 tablespoons of achiote
1¼ cup beef broth
4 chayotes
1 teaspoon of oregano
8 lb cassava
2 tomatoes
1 green hot pepper
4 ears corn
1 cabbage
4 tablespoons of Mexican cilantro
3 scallions
Salt
Pepper
Sweese 108.003 Porcelain Bowls with Handles – 20 Ounce
For Decoration:
Lime
Dry chili powder
Mexican cilantro
Step-by-Step Guide
Step 1
There is no Sopa De Pata recipe that can be prepared in just a few minutes. Regardless of whether you decide to use ours, or any other you come across, each of the recipes takes a long time to prepare, which is why it is best to make it for several people at once because it really doesn't make sense to put in so much effort if you intend to prepare a quantity sufficient for just one meal.
Accordingly, just as is the case with all offal, tripe and feet must be more than meticulously cleaned. Choose a pot that can hold a fairly large amount of water and soak the cow's feet in very cold salted water with lemon or vinegar for at least 20 minutes. After that, you need to boil them for at least 5 minutes to make sure that you have removed the last impurities contained in the organ meats. Set aside.
Step 2
It's time to wash and prepare the tripe. All you have to do is repeat the above procedure but boil a total of 3 times for 5 minutes.
Step 3
As for the cooking process, it is quite long, therefore, it is ideal to have a pressure cooker that can significantly reduce the cooking time. Trust us, it can cut the time from about five hours to two hours straight.
Place the cow's feet and garlic in a cooker, add salt, add water and turn on medium heat. Cover and cook for about an hour.
Step 4
After about an hour, carefully open the cooker and add the tripe and cover everything with boiling water. Cook for another hour on low to medium heat.
Step 5
Open the pressure cooker and add achiote, oregano, cilantro, and beef broth. Then add the vegetables in this order:
Cassava, chayotes, pepper, and cook covered for 15 min.
Cabbage, hot pepper, tomatoes, and corn pieces, and cook covered for 15 minutes.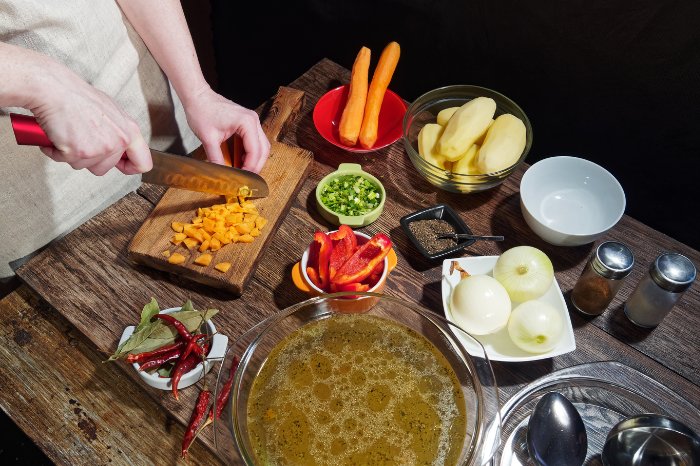 Step 6
Add spices (salt and pepper) to your taste. Add the scallions and serve on plates while still hot. You won't go wrong if you add a little lime juice, Mexican cilantro, and chili powder to taste.
Note: In the first phase of cooking, more specifically when preparing cow's feet and tripe, cover the cooker and keep it on heat until the steam starts to come out, put the pressure regulator and when it starts to vibrate, adjust the temperature.
That's it, now you know the secret of the perfect Sopa De Pata recipe that our grandmothers jealously guarded for years.
To Conclude – Sopa De Pata Recipe
So, whether you are feeling down or it is just a cool day in El Salvador, it is time for the comforting warmth that only this super delicious Sopa De Pata recipe can provide.
If you have any questions, feel free to let us know in the comments section below.
Recommended: Cómo Marinar Carne Para Asar Al Estilo Mexicano En 5 Pasos